Embarking on a journey to a new home is an amazing adventure, but somehow, it can also bring a lot of stress and challenges. Selecting the approximate and right door-to-door packers and movers service in Karachi, Pakistan, is a daunting task for those unfamiliar with the process. Main aim of Galaxy Movers is to guide you through our brilliant moving experience, offering valuable tips, insights, and the assurance of a stress-free relocation.
The Need for Professional Packers and Movers
With the bustling streets and diverse neighborhoods, moving within Karachi presents diverse and unique challenges. Hiring professional packers and movers will offer many benefits, from saving time to less physical strain and ensuring the safety of your cherished belongings during transit. The surging growth of Karachi's packing and moving industry reflects the increasing demand for these indispensable services.
Researching Your Options
Undertaking thorough research is the main topic of finding the perfect door-to-door packers and mover's service. By exploring various avenues, including online platforms, recommendations from friends and family, and local advertisements to discover potential services, you can gain valuable insights into the reliability and quality of a service by reading reviews from previous customers.
Qualities to Seek
Distinguished service providers share reliability, extensive experience, proper licensing, exceptional customer service, and transparent pricing. During your research, verify these qualities by delving into online reviews, requesting references, and reviewing their credentials.
Comparing and Shortlisting Potential Services
Collect quotes from packers and movers to compare pricing, services, and terms and conditions meticulously. It's crucial to emphasize the significance of evaluating these factors to make an informed decision. Utilize a checklist or template to compare and shortlist potential services systematically.
Questions to Ask Potential Packers and Movers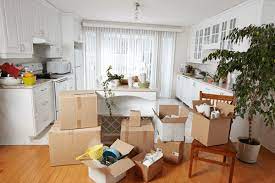 During initial consultations, pose essential questions to gauge the suitability of a service.
What services are encompassed in your package?
How do you handle delicate or valuable items?
What is your estimated timeline for the move?
Do you employ special packing materials or techniques?
What is your policy regarding insurance and claims?
Asking these questions ensures your needs align with the services offered and provides you with confidence in your choice.
Our Comprehensive Door-to-Door Services
Door-to-Door Movers in Karachi: Our expertise lies in seamless residential and commercial moving services within Karachi. Our seasoned team oversees the entire process, from packing, loading to unloading and unpacking, ensuring a hassle-free relocation.
Door-to-Door Cargo Service Karachi: If you require the transportation of cargo or goods between Karachi and Islamabad, the reliable cargo services by Galaxy Movers guarantee safe and timely deliveries tailored to your specific needs.
Door-to-Door Courier Service: Simplify sending packages and documents within Karachi or other cities in Pakistan with our efficient door-to-door courier services.
Door-to-Door Delivery Service: Rely on our dedicated delivery team to ensure your parcels and packages reach their destination securely and on time, offering dependable delivery services you can count on.
Why Choose Us for Door-to-Door Movers in Karachi, Pakistan?
Experienced Professionals: Our team consists of seasoned professionals well-versed in the intricacies of packing and moving. We handle your possessions with an absolute care, ensuring they arrive at their destination in immaculate condition.
Customized Solutions: Recognizing that every relocation is unique, Galaxy Movers offer complete and tailor-made solutions to meet your specific requirements, guaranteeing a personalized experience.
Reliable Fleet: Equipped with a modern fleet of vehicles, we can transport your belongings safely and securely, regardless of the size or distance of your move.
Competitive Pricing: Our commitment to providing value for your money is reflected in our competitive, transparent pricing, free from hidden charges.
Customer Satisfaction: Your satisfaction is ata highest priority. We take pride in our customer-centric approach, ensuring a stress-free moving experience for you.
Contact Us for Door-to-Door Packers and Movers in Karachi, Pakistan: Are you ready to experience the finest door-to-door packing and moving services in Karachi, Pakistan? Contact us today to request a free quote and schedule your move. The team is dedicated to ensuring your relocation is as smooth as possible, granting you peace of mind as you embark on your new journey. Regarding door-to-door movers in Karachi, trust Galaxy Movers to be your reliable partner.
Making an informed decision is crucial for a seamless move. Take your time to assess potential services and their offerings. Booking your packers and movers well in advance secures your desired moving date and ensures a stress-free experience. Your journey begins here, with us, your trusted moving partner in Karachi, Pakistan.