Relocating from Karachi to Multan can be a daunting task, but with Galaxy Movers, your journey becomes a hassle-free experience. Our dedicated Packers and Movers Service ensure a smooth transition, providing you with the peace of mind you deserve during this significant change. Trust Galaxy Movers to handle your belongings with care and precision as we take you from the bustling city of Karachi to the serene landscapes of Multan.
Why Choose Galaxy Movers?
1. Reliability:
At Galaxy Movers, we pride ourselves on being a reliable partner in your relocation journey. Our team is committed to delivering a service that is punctual, trustworthy, and professional. We understand the importance of your possessions, and our reliability ensures that you can count on us to transport your belongings safely from Karachi to Multan.
2. Experienced Team:
Our team consists of experienced professionals who have mastered the art of packing and moving. We employ a systematic approach to handle your items, ensuring that each step of the process is executed with precision. From packing fragile items to loading and unloading, our team is well-versed in the intricacies of relocation.
3. Customized Solutions: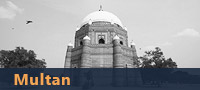 Recognizing that every move is unique, we offer customized solutions tailored to your specific needs. Whether you are moving a small apartment or an entire household, Galaxy Movers has the expertise to create a personalized plan that suits your requirements and budget.
Our Packers and Movers Services
1. Packing Services:
Our expert packers use high-quality materials to secure your belongings during transit. Fragile items receive special attention, with custom packaging designed to prevent damage. Trust Galaxy Movers to handle your valuables with the care they deserve.
2. Loading and Unloading:
Our skilled team ensures the safe loading and unloading of your items. Equipped with the right tools and techniques, we handle the heavy lifting, saving you time and effort. Our goal is to make the entire process as seamless as possible for you.
3. Transportation:
Galaxy Movers employs a modern fleet of vehicles designed for the secure transportation of your possessions. Our drivers are experienced in long-distance travel, ensuring the safe and timely arrival of your items in Multan.
4. Insurance Coverage:
To provide an extra layer of security, we offer insurance coverage for your belongings during transit. This ensures that you are protected against unforeseen circumstances, giving you added peace of mind throughout the journey.
How It Works
Request a Quote: Contact Galaxy Movers to receive a detailed quote based on your specific requirements. Our team will assess the volume of your belongings, the distance to be covered, and any additional services you may need.
Customized Plan: Once you approve the quote, we create a customized plan that outlines the entire relocation process. This plan takes into consideration the unique aspects of your move, ensuring a smooth and efficient experience.
Pack and Load: On the scheduled day, our team arrives at your location to pack and load your items. Our systematic approach ensures that everything is organized and ready for transport.
Transportation: Your belongings are transported securely from Karachi to Multan using our well-maintained fleet of vehicles. Our drivers follow the most efficient routes, minimizing the time your possessions spend on the road.
Unload and Unpack: Upon reaching your destination, our team unloads and unpacks your belongings, placing them in the designated areas of your new home. This final step ensures that you can settle in quickly and comfortably.
Relocating from Karachi to Multan is a significant undertaking, but with Galaxy Movers, you can experience a stress-free move. Our reliable and experienced team is dedicated to providing top-notch Packers and Movers services, ensuring that your transition is seamless and efficient. Choose Galaxy Movers for a journey that takes you from one home to another with ease and confidence. Contact us today to begin your hassle-free relocation with Galaxy Movers.